Posted on 17. Oct, 2008 by The Gimcracker in Gimcrackery, News
"Holy cow, a new post on The Gimcrack Miscellany!"
I know, I know. Taco Bell released the Volcano Taco. I've been busy.
I don't know if you've read in the papers lately, but the DJIA (?) is way down and the Nazz Deck (?) has lost a lot of points and the SMP-500 (stands for "Stock Market Price 500″) is failing miserably. Well I don't know exactly what all of this means, but it seems bad.
So what is the stock market? It's one of those questions that most people think they know the answer to, but do they really? The answer is no. For instance, can you explain this picture?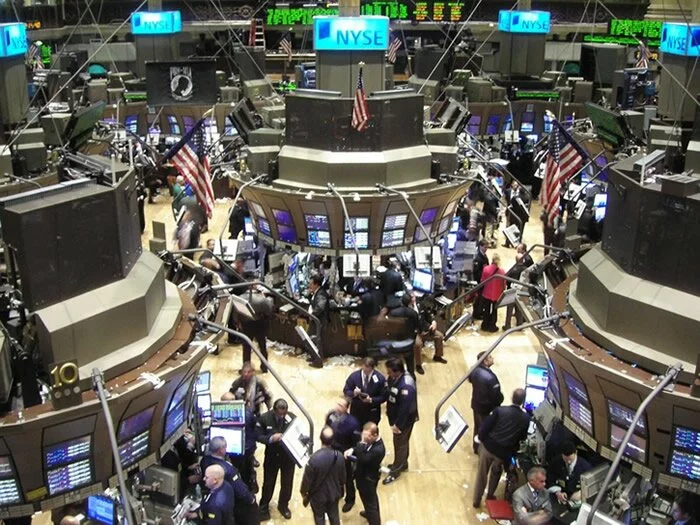 Stop. Don't say "people trading on Wall Street". You're like a child that repeats a cuss word.
Let me tell you something that really annoys me. Sometimes when the stock market comes up in conversation (which is never my doing) I ask the other person this question: "Hey, what is the stock market?"
I always get the same response: "The stock market? Duh, dude. It's … [blah blah blah, regurgitate facts they heard on Bloomburg, blah blah blah] … so, you see, it's pretty cool."
That's when I look at the person and exclaim, "You have no idea what you're talking about."
It really annoys me because I have this pet peeve about people that aren't able to just say they don't know the answer to something. Instead, they run their mouths and hope there's no one around that actually knows about the subject at hand. Occasionally there will be an expert on hand to present follow-up questions to the know-it-all, and that's when the know-it-all really starts to squirm. This is very pleasurable to observe and it's something that I greatly look forward to each day that I wake up.
So what IS the stock market? I'm not asking for a one sentence definition. I want to know why it exists, how it works, and why it has been falling lately. I've had classes on this and I've read articles and done research and passed my Series 7 exam and everything. Heck, I work at a financial institution. You think I ought to know the answers to these questions. But I don't truly grasp how it all works.
I just read this article on BBC that is totally written for dumbasses like me. What happens every time I read one of these watered-down articles about the stock market is this: I become enlightened at about the second paragraph and begin to realize what it all means and how it all works as I get further into the article. Then, when I get to the end, I realize I have forgotten the basic elements on which the article has been building.
I can understand each piece, but I just can't wrap my head around the sum of the parts. Why can I build a complicated web application but I can't understand the stock market? Probably because I build it in small pieces. It's similar to the "Baby Steps" theory presented in the exquisite film "What About Bob?"
Do you feel the same way? I can offer some consolation. 1) To make myself feel better, I have determined that no one really understands the stock market. 2) I oft' enjoy Volcano Tacos.
Combining those two elements is a recipe for success! Ignorance cancels out gluttony and vice versa.