Posted on 30. Oct, 2009 by The Gimcracker in Beratings, Movies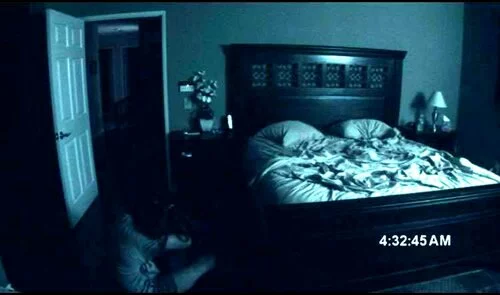 There's something inside of me that wants to be scared, and that's why I am constantly pursuing the feeling of fear, whether it's riding the most thrilling roller coaster on the face of the planet (Top Thrill Dragster at Cedar Point), camping in the middle of the deep dark woods, or seeing scary movies. Coasters and camping are still able to invoke a decent amount of fear in me (although not as much as they used to), but movies are unable to do so. I have not been truly scared of a movie for a long time. That is, until last night.
There have been some good movies that have come close. For instance, The Ring scared me, as did The Others and 1408. And I'm not talking about jumping out of my seat because something on the screen startled me, I'm referring to the sort of scared that sticks with you and interferes with your sleep. I realize that there are a lot of people out there who absolutely do not want to be scared in this way, and that is just fine. But if you are like me and you secretly love that rare feeling of truly being frightened to your core, then go see Paranormal Activity in the theaters as soon as possible.
The Good
They got it right, finally. The best part of scary movies is always the first half as everything starts to build up. It's the closing act that is always the worst, because you see whatever it is that is supposed to be scary, and we all know that the only thing to fear is fear itself. That is to say, once we know what it is we are fearing, it suddenly loses its potency. The scariness of most scary movies basically boils down to nothing more than how long it takes until we actually see what it is we're supposed to be scared of. The reason Paranormal Activity is so good is because it saves it until the last 10 seconds of film, and you could argue that it never really even shows us.
There are no credits, no movie studio logos, and no music at the end of the movie. You simply sit there too scared to move, listening to the low rumbling sound and staring at a black screen with just the faintest amount of greenish light coming through. Then you have to go home and try to sleep, and let me tell you this is no easy task.
This movie contains no gore, no special effects, only 4 actors, and takes place all in the same house. And yet it is the absolute scariest movie I have ever seen – bar none. It goes to show that you don't need a bunch of fancy special effects and quick crazy scenes to make a scary movie. It is shot in a mockumentary style, similarly to Cloverfield, The Blair Witch Project, and District 9, and coincidentally I have loved all of those films.
The Bad
SPOILER ALERT
While I try to stick with the caliber of filmmaking when doing beratings, I can't help but to point out something that bothered me about some of the motivations behind this film. The woman slowly becomes possessed by a demon throughout the film. The actors are aware of this since a psychic that comes to their house tells them it is not a ghost but in fact a demon. Being a Christian, I know that demons exist, and it is not something to be taken lightly. I am OK with talking about demons in a film, but the problem comes when you don't talk about the other side of the coin: Jesus Christ. The only way to cast out demons is with His authority, and that seems to me to be a rather well known fact – even among the secular community (via films like The Exorcist). For a movie that spent so much time delving into the realm of the spiritual world, not a single thing was mentioned having anything to do with God (apart from a solitary scene where Katie was holding a bloody cross, which was subsequently burnt).
The Beratings
Acting – No Beratings. You never even notice the two main actors are even acting. They seem so real, like they're just a young couple that are being spooked by a presence in their house.
Plot – No Beratings. The sequence of events and the build-up is what makes this film good.
Inconsistencies – No Beratings. Everything that happens is likely to have been recorded by Micah and his hand held camera.
Unbelievable Events – 1 Berating. I just don't see how they wouldn't be even more petrified than they were. I would have called a priest and/or left the house immediately Even though the demon followed Katie wherever she went, human nature still would be to run from the evil spirit.
Schematics – No Beratings. The movie had surprisingly well-done scenes and very eerie sound effects.
1/10 Beratings = See it the first weekend
0/10 Stand in line for the very first showing
» 1/10 See it the first weekend
2/10 See it at full price
3/10 See it at the Five-Buck-Club
4/10 See it at the dollar-fifty
5/10 See it OnDemand
6/10 Rent it from Blockbuster
7/10 Watch it on TV
8/10 Watch it purely for spousal points
9/10 Never watch it
10/10 Buy it and publicly destroy it