Posted on 24. Nov, 2009 by The Gimcracker in Black Friday Watch, Gimcrackery
I have to work the Friday after Thanksgiving. I used to think this was a bad thing, and it seems like everyone else has that day off. But this year, after looking through the morbidly obese Sunday paper and seeing all of the "Black Friday" deals, I decided it was actually a good thing, since it meant I didn't even have the option to shop that day. Black Friday makes me sick. The problem is, like most evil things, it is so appealing in some ways. For instance, I saw that BluRays are going to be like $6. I saw the Cannon T1i (a $900 camera) is going for $699. I saw an xbox 360 for $299… WITH SIX GAMES. So there is definitely that element of intrigue there. But it's evil, right? Yes. Maybe these low-down, dirty examples of Black Friday ads will disgust you enough to hammer that idea home.
JC Penny
We'll start off light with the JC Penny ad for their black Friday deals: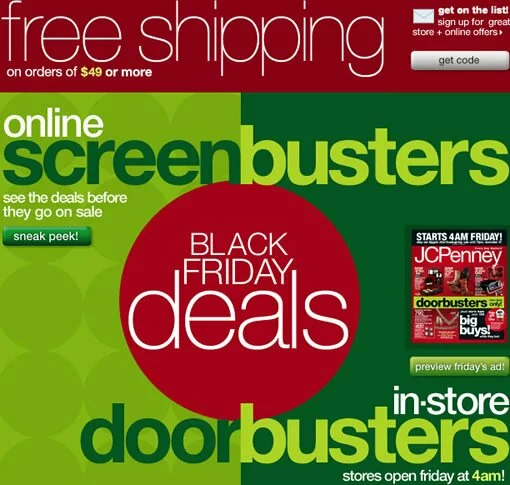 Look at the bottom right-hand corner: "stores open friday at 4am!". 4am is five hours before 9am. 4am is three hours before 7am. 4am is four hours after midnight. And the workers probably have to show up at the store two hours before it opens that day to prepare. That means they have to show up at 2am. 2am is ten hours before noon. That is more than a full work day that the workers will be there before lunchtime. 2am is two hours after the Giants & Broncos game ends Thursday night. 2am is not a recognized time in 37 states. What could be so important at JC-freaking-Penny's that you need to miss a night of sleep to obtain? A cheaply-made pendant heart necklace? A blender? A pair of Reebok's? WHAT?
Also of note: "online screen busters". What is that? What are those?
Lowe's
Let's move on to the Lowe's ads. Keep in mind this is Lowe's. You buy things to fix your house at Lowe's.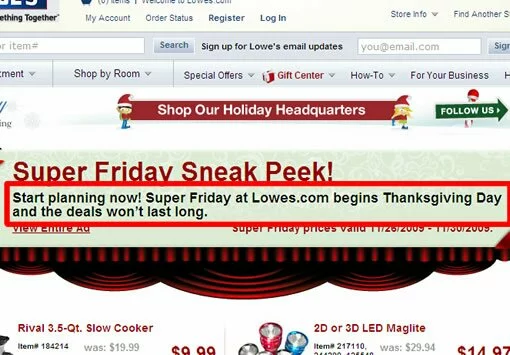 I snapped this screenshot on Monday. If anyone is planning their Friday shopping orgy four days prior they need to be given ritalin and a warm glass of milk. Now I want you to study the second sentence in the highlighted box. "Super Friday begins Thanksgiving Day". The Friday sale begins on a Thursday. And apparently the "deals won't last long". So that means it is quite possible that if you go to Lowe's on Friday to shop their Friday sales, they could be sold out of everything because they sold them all on Thursday. Smart.
Walmart
Let's move on to America's most embarrassing store's ad: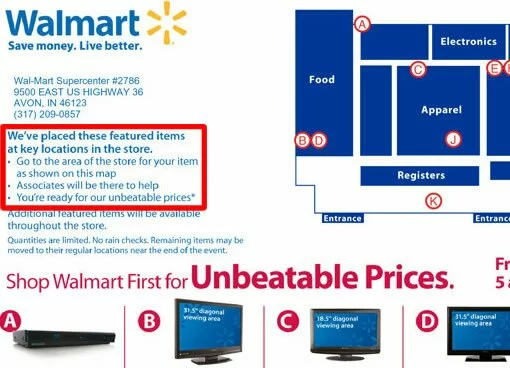 Walmart is so sure that they will retain their clientele, no matter how disgusting their stores and products, that they have decided to play a little game with their consumers by placing them in a life-size rat maze. Walmart has engineered a "treasure" map by rearranging their products into a confusing configuration of maximum center-walkway kiosks and minimum motorized-obesity-kart driving. If no one gets trampled to death this year it is only because Walmart did not drop the price low enough on their off-brand wannabe flat panel TVs.
Best Buy
The fastest rising star of Black Friday hands down has got to be Best Buy. The market is clearly a-frenzy for consumer electronics. I mean just look at their ad:
Best Buy is handing out TICKETS for people to BUY THINGS AT THEIR STORE. And I thought the economy wasn't doing so hot. If luxury electronics items and unnecessary video games are in such demand that Best Buy has been forced to devise a queuing system rivaling that of Disney's Fast Pass™, I would argue that the general public ain't doing too bad. Do you understand that Best Buy is expecting people to show up at their front door at 3am Friday morning to stand in line for 2 hours to snatch up a generic $69 BluRay player that is going to break in 3 months and then wait in the cash register line which wraps around to the back of the store to buy the damned thing only to be sold an "extended service plan" for $19 which only covers earthquake damage? And the worst part: lots and lots of people are going to go do this. For goodness sake people, just go to the Olive Garden one less time this year and you will have saved the same amount of money without selling your soul to the Geek Squad.
Kmart
Here is Kmart's ad:
Hehe, Kmart. Kudos little buddy. Hang in there.
Target
This is one ad that you need to go check out first hand. It is by far the worst, most disappointing, off-the-mark, blasphemous Black Friday campaign yet. Target's ad: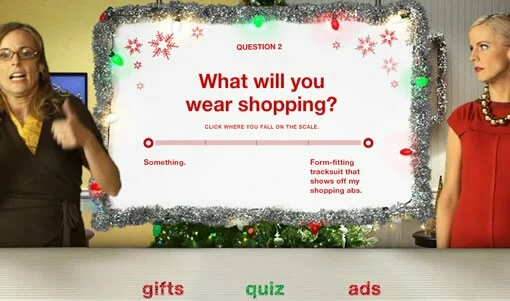 Target has created an entire mini-site for Black Friday, including quizzes, paid professional actors, and sleek animated graphics. Above, you'll see one of the questions in the quiz, which includes other questions such as "What are you eating for breakfast on Black Friday morning?" This is really getting out of hand. Before you know it, Black Friday will be a bigger American holiday than Christmas Day. Think about it, have you ever taken a quiz on the Internet about what you will wear to church Christmas morning?
Target's ad has it all. Here is a direct quote from the introduction dialogue: "Every savvy holiday shopper knows that if you want to win Christmas you better be all over Target's 2-day sale." Win. Christmas. Ironically, that makes the loser of Christmas the One who made Christmas for us. Now look at this:
So, these are things now, apparently:
"Black Friday dominators"
counting down to next Christmas before this one even gets here
green blood
Hark! The herold angels SAVE!
I have a Christian coworker who does not celebrate Christmas at all. At first I thought he was weird. Now I'm beginning to think the rest of us are. Black Friday is one of the bleakest days of the year. It is "Bleak Friday".