Posted on 30. Dec, 2009 by The Gimcracker in Beratings, Movies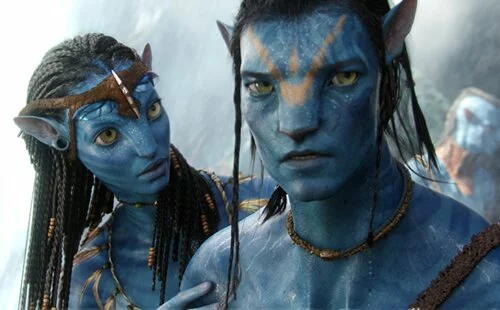 Have you ever been so immersed in a story or character that you forget it is not real? Avatar does that to you. After seeing the film, it's hard to remember that the blue-skinned alien race called the Na'vi doesn't actually exist. It's hard to imagine that Biff from Back To The Future isn't a jerk in real life. Or that Middle Earth isn't a real place. It's because of good film-making that those things are so convincing. If I could sum up Avatar in a single phrase, it wouldn't be "master storytelling", "heart-wrenching drama", "superb characters", or even "ground-breaking", it would simply be "superb film-making". James Cameron knows how to make a film into an event that you can't miss. Audiences were greatly affected by movies like The Terminator, Aliens, and Titanic. Well we can definitely add Avatar to the ever-growing list of must-sees in the theater.
The Good
I can't remember a more magical world or desirable setting I've wanted to live in than the one created in Avatar. Not even Dazed & Confused. James Cameron thought let's take Earth, make everything huge and photo-luminescent, and give everyone epic flying mounts so they can ride through floating mountains. Then he took all these natural elements and infused machinery and industry by added a futuristic drilling company, complete with monstrous mining equipment, mech-warrior-esque bots, and flying battleships.
The culmination of this dichotomy happens when the drilling company decides to take out the Na'vi tribe's home. I especially loved that scene because it pits the might of nature against the cunning of man. Hundreds of missiles are launched in an all-out aerial assault on the largest living organism in the galaxy – a half-mile high, football field-thick tree that is home to the entire tribe. It is a pretty epic and moving scene when the tree is finally felled, and it is a good example of the conflict Avatar presents.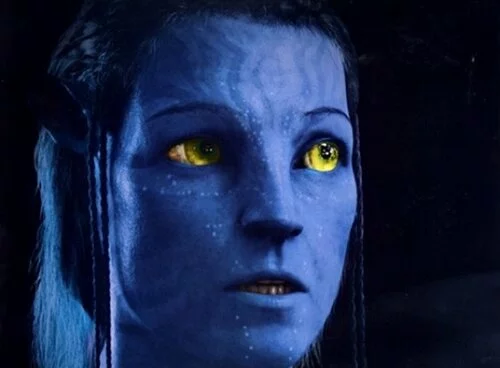 This is the next generation of CGI. The Na'vi were so meticulously created that they seem like a real species. The hardest part about doing CGI is human faces. You could say it is the last element that remains un-perfected, and certainly unrefined. The reason is that humans have a special area of the brain that is dedicated to recognizing human facial structures and facial expressions. That is why we can meet thousands of people in our lives with pretty much the same overall facial structure (2 eyes, 1 nose, about the same size head, etc.), all of which are capable of making thousands of facial expressions, and you and I instantly know who is who and what they're feeling inside based solely on their face. So, imagine how hard it would be to create convincing CGI involving human faces. Avatar has gotten closer than ever before, and it is worth seeing the film just for this point.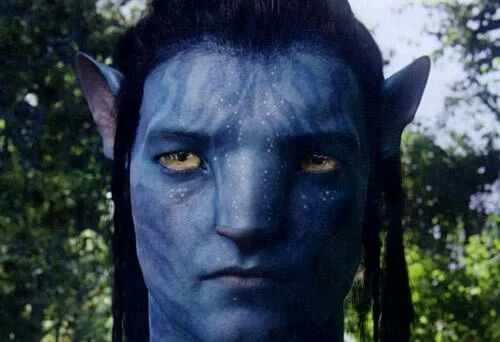 As Jake Sulley discovers the world of Pandora, the audience discovers it with him. There are so many original and interesting things that we come across, everything from the flying mount rite of passage to the suspended hammocks they sleep in. It is so depressing each time Jake actually wakes back up and leaves his Avatar on standby somewhere out there in the jungle – for him and for the audience. Imagine having to leave Neverland or Narnia, and add in the fact that you are not only leaving such a magical world, but the person you have fallen in love with as well. Blast you James Cameron! How do you make love stories so appealing to a regular dude like me?!
Yes, there is a love story. And it is pretty good, although not on the level of Titanic. What takes precedence to the specific love story between Jake and his woman is the love story between Jake and the world of the Na'vi. And the reason we are able to fall in love along with Jake is because of the caliber of film-making. The sequence of events, the emotional highs and lows, the genuineness of the characters, the camera work, the effects – they all had a lot of time and effort put into them.
With the exception of Michelle Rodriguez. Why does she ever get put in a movie? Which leads us to…
The Bad
Michelle Rodriguez is the most worthless actor in Hollywood. Please find me a movie where she has any sort of genuine or natural dialogue. That is a direct challenge to you. You won't find it in Avatar, that's for sure. She has maybe 20 lines in the movie. Guess how many of them are not one-liners? None. "I didn't sign up for this shit." "You got what it takes, Marine?" "You should see your faces." And 17 others that you will have to endure if you see Avatar. Michelle, on behalf of everyone who pays $11 for a movie ticket, please go work at a body shop or join the actual Marines.
There were plenty of unbelievable events in Avatar. Pretty much from the time Jake takes down the corporal's ship to when Jake's love Neytiri figures out how to put the mask on him, there is not one believable event. Here's a quick list of things I noticed:
Jake's avatar falls hundreds of feet to the ground and gets up running without a scratch
The Corporal in his mech suit falls hundreds of feet and slams onto the ground, and neither the corporal nor the mechanical suit are injured or broken in any way
Jake takes on the mech suit in hand-to-hand combat and appears to be just as strong as the mech suit
Again in the same combat sequence, the mech suit appears to be just as agile as Jake
The mech suit loses its gun and unsheaths a knife. Is this thing a robot or a human?
Neytiri somehow gains all knowledge on the human technology of the avatar program and knows where Jake's real body is, that it needs oxygen (which she's never heard of), and how to put the mask on him to save his life.
This all happens in the same 10 minute sequence at the climax of the movie. Cameron really could have sealed the deal with a climax the likes of The Matrix or Return of the Jedi, but instead he regresses into a series of classic action movie cliches.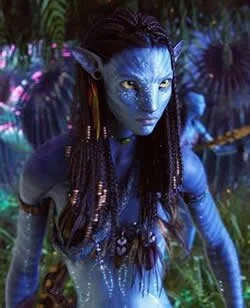 If you read between the lines, it could be apparent that James Cameron is trying to preach environmentalism, Buddhism, and that the US should have left the Native Americans alone. I would slightly disagree with those ideas. I think Avatar is a commentary on humanity overall, not just on current events in America. Since humankind began, superpowers have expanded and gained power over others, because that is human nature. It is also human nature to sacrifice the natural world for the advancement of technology and civilization. Just because we find a new planet doesn't mean we're not going to let our humanity show through. In Avatar, humanity loses the battle against the indigenous population. What I take away from this movie is that maybe we were not meant to be on Pandora.
The film does tend to glorify the oneness with nature that the Na'vi have, and it gets a little old after a while. However Pandora is different than Earth because the beings that inhabit it can literally plug in to the network of nature via a very physical communication system. We can't employ mind control on horses simply by plugging into them, but on Pandora you can create an instant, eternal bond with the same type of animal via the natural communication jack that every living being has. There are completely new and unique lifeforms in a world we have never been to or seen before, so I wouldn't be too quick to compare every element in Pandora to an Earthly equivalent.
The bottom line is, yes James Cameron has certain political ideas that he could be expressing through his film, but no they don't ruin the movie. You can easily accept this film as what it is, and enjoy it. That is, unless you come in with a prior agenda of your own.
The Beratings
Acting – No Beratings. Any lack of acting by Michelle Rodriguez is more than compensated for by Giovanni Ribisi. Sam Worthington also creates a very likable and relatable protagonist.
Plot – No Beratings. Wasn't The Matrix, but it was good enough to keep me enthralled for almost 3 hours.
Inconsistencies – 1 Berating. We spend 45 minutes watching the development of how agile the Na'vi are, and then we see one of them fight a bulky mech warrior and he can't even get behind it. Despite being undeniably chosen by the Na'vi deity as their savior, Jake is cast out of the tribe without any sign of betrayal on his part. Then accepted back in immediately when he arrives on a bigger dragon.
Unbelievable Events – 1 Berating. See bulleted list in "The Bad" section above. Also, the "Flux Vortex" didn't make any sense. How can there be floating mountains? Gravity? Magnetism? I looked up the term "flux vortex" and couldn't find a thing about it.
Semantics – No Beratings. Great soundtrack, CGI, originality, etc.
2/10 Beratings = See it at full price
0/10 Stand in line for the very first showing
1/10 See it the first weekend
» 2/10 See it at full price
3/10 See it at the Five-Buck-Club
4/10 See it at the dollar-fifty
5/10 See it OnDemand
6/10 Rent it from Blockbuster
7/10 Watch it on TV
8/10 Watch it purely for spousal points
9/10 Never watch it
10/10 Buy it and publicly destroy it