Posted on 27. May, 2009 by The Gimcracker in Twitter Sucks
Twitter is making a TV show or something. That should be the end of everything right there. Shut it down. Shut down the Internet server. And I guess turn off the TV then, too. But it won't be the end of everything because of people. A lot of them. This is the future that we are destined for because of Twitter. And it isn't enough that I have to share the Internet with Twitter, now I have to be "threatened" by Ashton Kutcher and his old lady. His name should be Ashtwitter Putcher-mouth-shut*.
Ashton & Demi are threatening Twitter, or us, or someone, to leave Twitter if it does a TV show. Why? Why are you doing that? I think they are mumbling something about invasion of privacy, being stalked, and intrusion on their personal lives. Do they not know what it is? Do they use it every day and not know what Twitter is?
ASHTON YOU ARE VOLUNTARILY POSTING ABOUT WHAT YOU ARE DOING AND THINKING EVERY SECOND TO EVERY PERSON AND ASKING THEM TO READ IT. AAAASHTONNNNN!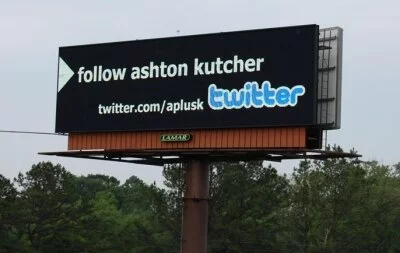 You seem to be forgetting that in order for people to stalk you and know where you are and what you are doing, you have to tell them. I have found the solution, Ashton. When it comes time for this TV show to be made and whatever that looks like and Twitter and Tweets and all that (ugh), here it is, get ready: don't tweet your whereabouts. You're welcome!
Regarding the threatening, you probably think you're threatening Twitter but that proves once again that you don't know what Twitter is because it doesn't care if you're on it or not because there are other incredibly sophisticated famous people who use it too, plus the most interesting man in the world, plus everyone. So I guess you're threatening your followers? That makes sense because they have a lot of say in the matter (they don't have any say). There's only one other group of people and that's people who are not your followers, which includes me.
Through my sound logic we have determined you are threatening me. Threatening is abuse. Stop it. Also please continue to write entertaining tweets for us to read. At least you are famous unlike most people on Twitter. Your take on climate change is much better than a boring person's.
P.S. For the Twitterers: this whole post is @aplusk.
*I still give him props for That 70s Show