Refreshing Band "Mumford & Sons"; Good Music, Great Lyrics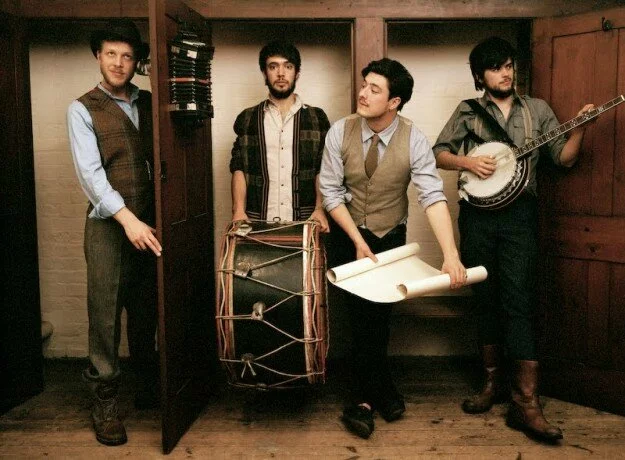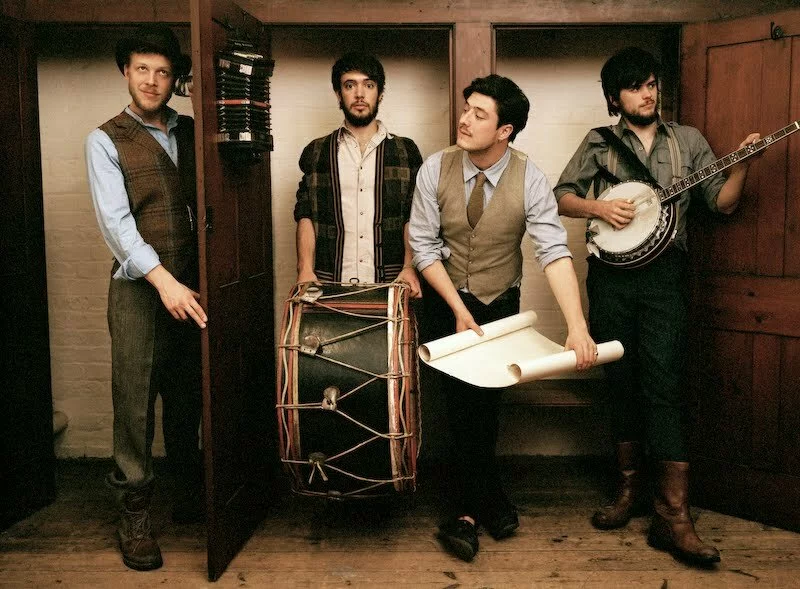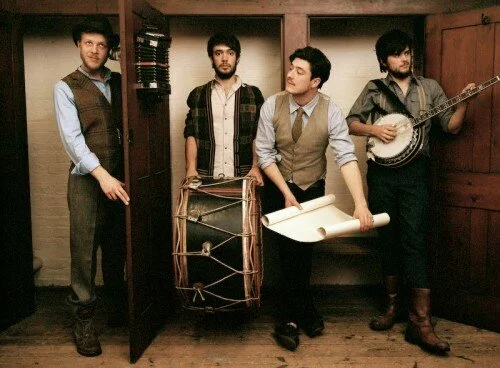 I can't believe I discovered this band at the Grammys. The Grammys is a 3.5 hour block of egos, actor slash "musicians", and occasional mainstream country performances. Amiright? Yes, I am right and correct. But something happened two nights ago at the 53rd annual Grammy awards show that knocked me off my condescending elitist horse. I saw a band I'd never heard of before perform a song with such fervor that I was instantly drawn to them. And the song was very, very good. Too good. I thought there was a catch or something. But after two days of pondering, buying their album, and watching Youtube videos of their performances, I'm convinced they're the real deal.
I oft face a conundrum with music in general, and that is: why do most of the "best" bands have dark & depressing, overly-political, or blatantly atheistic lyrics? There are of course exceptions to this rule, but they are too few and far between. I'm happy to report that Mumford & Sons have narrowed that gap just a little. Here is their refreshing Grammy performance of The Cave to start you off:
Just in case that video is removed by the time you read this, you can watch it on (ugh, sorry) Perez Hilton here. And just in case BOTH of those links no longer work, the official music video they made for the song is here. Mumford & Sons are a folk rock band from England. That's weird. Does England have folk? I thought folk was just America. Next thing you're gonna tell me is India has created their own version of Hollywood. What? When did that happen? Anyway, here are some noteworthy songs from their album entitled Sigh No More.
This song is called White Blank Page:
This song is called Awake My Soul:
Finally, this one is called After The Storm. It's one of the most beautiful and powerful songs I've heard in a long time. If you don't listen to any other songs here, listen to this one:
The thing that draws me to Mumford & Sons, other than their music, is the message prevalent all throughout their lyrics. It's a message of a God of grace, being called out to be a better person, and looking forward to the day when the sky is rolled back and we meet our maker. Below is an excerpt of lyrics from several songs off their album, in order:
Sigh No More
Love it will not betray you
Dismay or enslave you, it will set you free
Be more like the man you were made to be

There is a design, an alignment, a cry
Of my heart to see,
The beauty of love as it was made to be
The Cave
So tie me to a post and block my ears
I can see widows and orphans through my tears
I know my call despite my faults
And despite my growing fears

Cause I need freedom now
And I need to know how
To live my life as it's meant to be
Roll Away Your Stone
Cause you told me that I would find a hole,
Within the fragile substance of my soul
And I have filled this void with things unreal,
And all the while my character it steals

Darkness is a harsh term don't you think?
And yet it dominates the things I see
Thistle & Weeds
I begged you to hear me, there's more than flesh and bones
Let the dead bury the dead, they will come out in droves
But take the spade from my hands and fill in the holes you've made

But plant your hope with good seeds
Don't cover yourself with thistle and weeds
Rain down, rain down on me
Awake My Soul
In these bodies we will live, in these bodies we will die
Where you invest your love, you invest your life

Awake my soul
You were made to meet your maker
After The Storm
Because death is just so full and man so small
Well I'm scared of what's behind and what's before

And there will come a time, you'll see, with no more tears
And love will not break your heart, but dismiss your fears
Get over your hill and see what you find there
With grace in your heart and flowers in your hair
Not only are those lyrics poetic, clever, and deep, they are full of hope and references to Christianity. I am blown away by this band and I can't wait for them to release their next album, which probably won't be anytime soon since they are touring all over the world right now. Hopefully if you haven't heard of Mumford & Sons before, you can enjoy the music and/or lyrics I have posted here.
And if nothing else, at least you know that TGM is still a website that exists with blog posts. I bet you didn't know that.