Posted on 31. Aug, 2009 by The Gimcracker in Beratings, Movies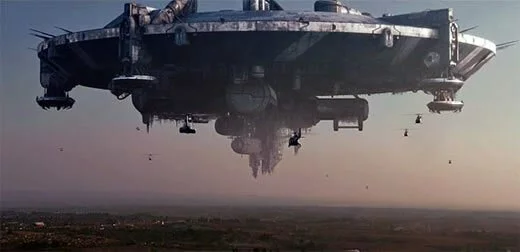 District 9 is one of those rare gems where the cast is made up of entirely unknowns, directed by an unknown, and set in an unknown place (there's a city in South Africa with buildings? is South Africa like a country or something? more ignorant questions). That's why it's such a good movie. It's like Star Wars IV or Cloverfield or Napoleon Dynamite. I guess what I'm saying is it can only go down from here. So let's all enjoy this movie while we still can. Everyone go out and see this movie and support directors that make special effects who are not Micheal Bay. Do it for the children.
SPOILER
An alien spacecraft comes to earth in 1990 and stops directly over Johannesburg and just sits there for like 3 months and the government wants to be humanitarian (don't they know that word has "human" in it?) and go help the aliens so they go up to the ship and somehow break in to this ginormous ship even though they are incapable of firing the simplest alien pistol and find a million aliens who are all about to starve to death and decide to take them and put them in a sectioned-off part of their city called District 9 until they can figure out what to do with them. 20 years later it's getting out of control because the aliens are breeding rapidly and causing crime and deaths and so the government decides to evict them and there are Nigerians involved who engage in gang activity with the aliens who complicate things because they are benefiting off of the aliens being in the city. The human protagonist Wikus gets infected with alien DNA and starts to change into one and is able to fire the super advanced alien weaponry and thus becomes invaluable to the government because they want to use him for his DNA. Oh and also the government is corrupt and so Wikus has to hide from the government and the Nigerians among the aliens while he is going through this transition.
The movie begins documentary style and for a while I thought the whole thing was going to be done in this manner, which at that time I wasn't really looking forward to. About 20 minutes in it began to transition into live action in such a seamless manner that I didn't realize until most of the way through that it had even made the transition. It was done in a very unique way and somewhat reminded me of the film making style used in Cloverfield. Let's explore some of the things that made this movie good, and a few things I could have done without.
The Good
Let me just say that I loved this movie. I could see pretty well where the plot was going, but the journey was most of the fun. The first time one of the alien weapons was fired I got chills. The special effects were done in such a way that I almost forgot that they weren't real. The visual style of District 9 is very gritty, and the special effects blend in very nicely. They aren't colorful like Transfomers 2. They aren't completely monotone and dark like Terminator 4. They are exactly what they should be – extensions of real life scenes and action sequences. For instance, one scene involves a truck ramming into a mechanical walking robot. The robot is CGI (not because it looks CGI, but because you just know it is), but the truck is real. They could have done the whole shot in CGI like they would have done in a Micheal Bay film, but they chose to blend the CGI with real world objects, and I have found that is where the best action sequences are born. Here are a few examples of good CGI/real-world object blending:
The actor who played Wikus is likable in a pitiful sort of way, although he makes bad decisions and isn't the brightest man alive. I enjoyed watching his transformation, physical and psychological. The budget for District 9 was $30 million. In comparison, the budget for Transformers 2 was $200+ million. Despite this huge difference in funding, District 9 had much more amazing and poignant special effects, and overall felt a lot more real. There were just as many scenes featuring special effects in District 9 as there were in Transformers 2, because the aliens were in almost every scene. I realize T2 had to pay big name actors and went on a marketing blitz, but that still leaves at least $100 million for production expenses (probably much more than that). This only goes to show that what makes a movie good is quality and creativity, not money and sex.
The weapons were quite stunning. I found myself yearning to see another out of this world weapon being fired, and every time I got what I wanted. Such advanced machinery and technology in the same frames as dirty, run-down hovels and trash is what makes this movie stand out: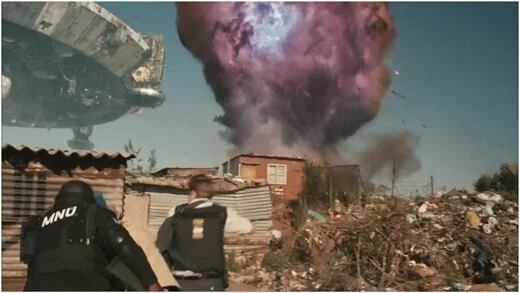 The last 20 minutes of the film blew me away. When Wikus was driving the mech-warrior suit and fending off an entire army of soldiers shooting everything from pistols to mini-guns, and then he caught that RPG in mid-flight and flung it aside, there literally were cheers in the theater, and I was one of the people that audibly cheered. I haven't experienced audience response like that since The Matrix. It seemed like there was nothing that couldn't be done, and nowhere we couldn't go, and I attribute that to Neil Blomcamp, director and screenwriter.
The Bad
There were some unbelievable events, as well as inconsistencies in District 9. First of all, I don't believe humans would stand for the type of violence and rampage caused by an alien race and not wage war against the offending party. Going in and nicely asking for signatures on eviction documents amidst blatantly unruly aliens that are fighting back and killing government officials is ludicrous. No human would enter with such light armor and limited weapons into an area with 1.5 million aliens, all of which are bigger and stronger than any human, and most of which have weapons that could take out a building.
Also, if an alien ship 3 miles long with a million aliens was hovering over a city somewhere on Earth, I don't care which country it is in, the entire world would be involved – not just the local government. It was totally unbelievable how a couple of corrupt local government guys could be running the show in an event of this magnitude.
One inconsistency was that the ship was apparently broken and not able to return home, but somehow at the end of the movie one alien was able to fix it from the ground and leave. If he was able to fix it with no resources by himself 500 yards away from it, how could a million of them not fix it during the 3 months they sat inside the actual ship before humans "rescued" them?
Also, the range of intelligence and moral conduct amongst the alien race was not consistent. Every alien was savage, hostile, and not smart enough to not get killed by some very dumb humans. Every alien except one, who happened to be super smart and super heroic and super forgiving. Are there other aliens like this? Why was he so different from every other alien? The movie never explained it and it leaves a gaping inconsistent hole.
The Beratings
Acting – No Beratings. I love no-name actors because they usually don't seem to have egos.
Plot – No Beratings. Not the most complex plot, but original nonetheless.
Inconsistencies – 1 Berating.
Unbelievable Events – 1 Berating.
Schematics – No Beratings. The movie was well-made, especially for a $30 million budget.
2/10 Beratings = See it at full price
0/10 Stand in line for the very first showing
1/10 See it the first weekend
» 2/10 See it at full price
3/10 See it at the Five-Buck-Club
4/10 See it at the dollar-fifty
5/10 See it OnDemand
6/10 Rent it from Blockbuster
7/10 Watch it on TV
8/10 Watch it purely for spousal points
9/10 Never watch it
10/10 Buy it and publicly destroy it