Posted on 15. Oct, 2009 by The Gimcracker in Gaming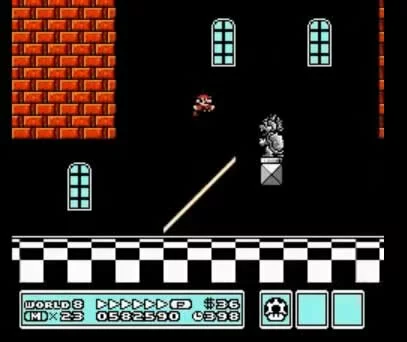 Certain things stand the test of time. To name a few: The Beatles, Seinfeld, original Star Wars, and hhhhwhiskey. The question I want to ask, right here, right now, is hhhhwhy? Why do some things stand the test of time no matter how widespread they become, yet other things get real old, real quick? I think it is because of the quality of the product. The more time, energy, and skill that goes into producing something, the longer it will stick around (duh). But what is a concrete sign that something was made with a higher skill level?
The answer is discretion. Too much of anything is not a good thing, and it usually ends up ruining a product. If you put too much of any one ingredient in a recipe, you ruin the recipe. Refer to the previous examples I gave, and you will see that they definitely follow this important guideline because they have been built with intentional discretion. Everyone loves Newman from Seinfeld, but he actually plays a very minor role. This is because the creators wanted you to get excited when you finally did see him, which made people want to watch the show. In a sense, it makes the show sort of feel fresh and always new.
Let's think about one of the greatest all time video games: Super Mario 3 (on regular NES). Besides the obvious reasons that propel it into greatness, such as ingenuity, great user interface, great graphics (at the time), and memorable music, there is something a little deeper that makes this game stand the test of time, and that is the creators use of discretion. Specifically, the use of "special" elements, such as monsters, levels, and power-ups, that only appear once (or very few times) throughout the game.
The game designers had to spend a great amount of time on each and every individual element in the game. Every creature was conceived, designed, drawn, and animated with loving Nintendo care. So why would the designers go through all that trouble to create a creature, and then only put that creature in one and only one level? The answer to that question speaks to the point I'm trying to make, and that is, when it comes to products that are truly good, it's not about efficiency, it's about art. Nintendo execs could have gotten more bang for their buck by putting the angry sun from the World 2 sand level in a lot of other levels. Or could they?
Here are 13 examples of things from Mario 3 that only appear once in the entire game.
Sand Level (After World 2-3)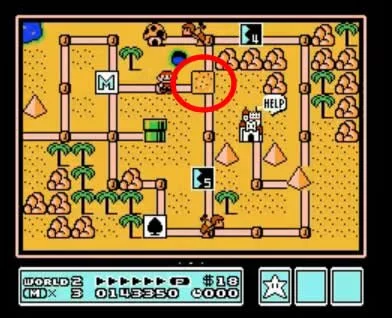 Most of the overworld views in Mario 3 show a series of numbered levels, a fort, a castle, and special places like the spade and mushroom houses. Take a look at the screenshot from World 2. Why didn't the designers just save themselves some time and use the standard black square template and create another numbered level? Instead they chose to make a special, memorable level, indicated by a sinking sand pit. There are no other levels in the game marked with this image.
Tornado (World 2 Sand Level)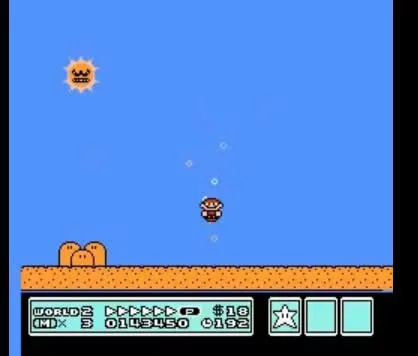 The sand level in World 2 previously mentioned is also home to another rare gem: the tornado! The tornado is a very unique feature because of the way you have to get through it. If you don't get up enough speed, you will be sucked into the tornado and spun around and dropped back where you started. Very clever obstacle, probably taking designers a fair amount of time to program, and only seen in this one instance.
Pyramid (After World 2-5)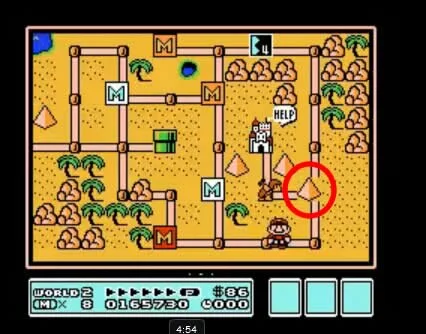 Going along with the Egyptian theme, World 2 also features a level that is indicated by a pyramid, the only pyramid level in the game. The designers went a little crazy with World 2, it appears.
Boat (World 3)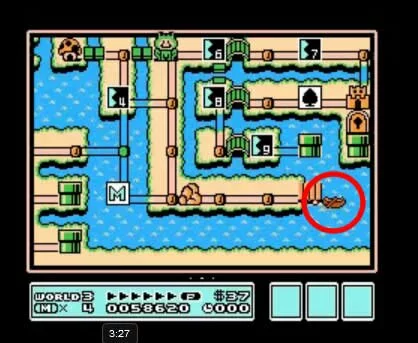 In World 3 the designers totally went off the beaten path in the overworld view. Every other world features a system of moving from level to level on a fixed "track", but in World 3 you can hop aboard a boat and go anywhere you want! Why did they only use this system of navigating in World 3? It seems like such a deviation from the other worlds that it should at least appear in one other place in the game. But the designers knew that if they used it again, World 3 would lose its unique feel as being the "water world".
Waterfall (World 4-1)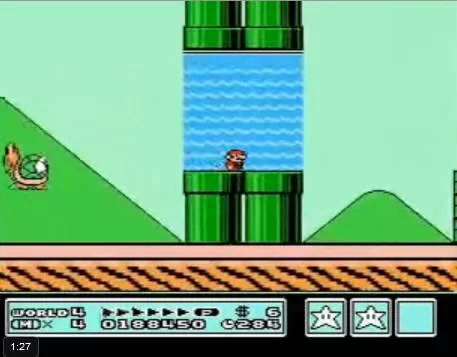 In World 4-1 you can jump up into a waterfall and begin swimming, and then jump back out the other side when you're done. Brilliant, and only used once.
Kuribo's Goomba (World 4-3)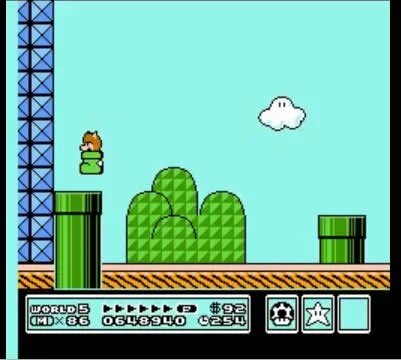 We always called this the "boot" level, because you could knock a goomba out of a mechanical shoe that looked like a boot and steal it from him! Apparently this enemy is officially called Kuribo's Goomba. Wow, is Nintendo from Japan or something? Anyway, also worth mentioning on this level is the fact that you actually play the level backwards, and then drop down and go back forwards again. This wasn't worth splitting out into it's own category because of the fact that there are other levels where you have to back-track to get to the right place, but it's definitely the only level where you are clearly playing linearly from right to left, and worth mentioning.
Size-Changing Doors (World 4-6)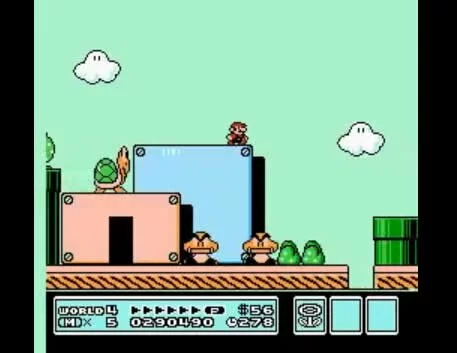 In World 4-6 the designers introduced the totally new concept of going through a magical door to an almost identically parallel level to the one you were just on, except the enemies are smaller, and some of the power-ups change. Again, the only level in the game with this sort of mechanism.
Spiral Pyramid (World 5 Sky Fort)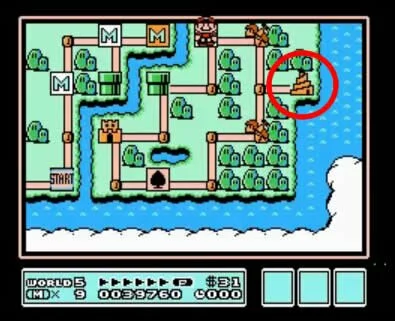 Moving along to World 5, we come across a transitional level that takes us into the sky, which is indicated by a spiral-shaped pyramid. It's the only level that you don't actually "beat" in the traditional sense. You just go through a pipe at the end and you are suddenly back in the overworld. This is the only level marked with the spiral-shaped pyramid, as well as the only level that you don't actually "beat".
Noose Light Bulbs (World 5 Sky Fort)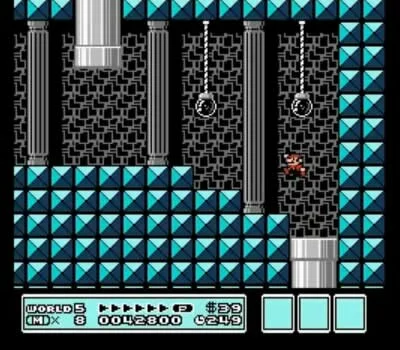 Inside this sky fort transitional level is a curious thing. In the background of one of the rooms there are two light bulbs hanging down on chains that sort of resemble nooses. Why the designers chose to place these in the background of this specific room of this specific level, we'll never know. What we do know is that it is the only place in the game that they appear.
Para-Beetles (World 5-6)

You know that really hard level in World 5 where you have to jump on those flying things, which begin to ascend as soon as you land on them? Those are called Para-Beetles, and World 5-6 is the only level in the game where they appear.
Fire-Breathing Nippers (World 7-8)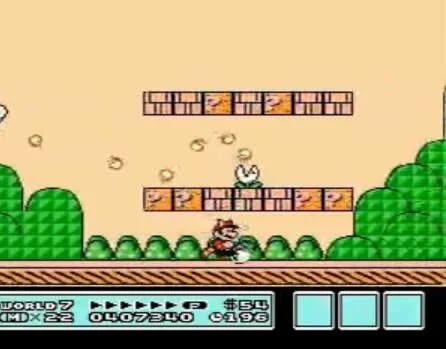 One of the toughest and most surprising points in the entire game is towards the very end of World 7-8. You are strolling along, having just made it through the bulk of one of the most challenging levels in the game, and you come across two "Nippers", which is what those little hopping white flowers are called. "Simple," you say to yourself, "I'll just jump over – GAH!!!" At that point you die because you realize the flowers SHOOT STREAMS OF FIREBALLS AT YOU. It is the only point in the game where the Nippers are capable of breathing fire. Tricksy little Nintendo designers!
Black & White Level (World 8-2)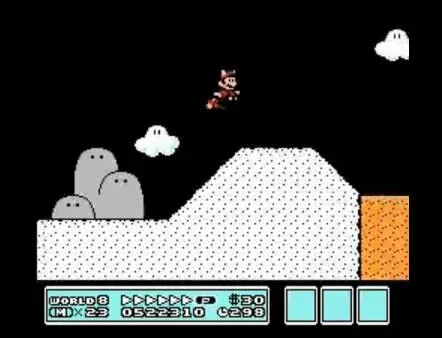 I know this one seems like a stretch, but it's actually pretty interesting if you think about it. World 8-2 is mostly black and white, with the exception of the sinking sand and the enemies. Two questions: 1) Why is this world done in black and white, and 2) Why are there no other levels in black and white? Interesting. One other thing of note: besides the sand level from World 2, this is the only other level to feature the circling Angry Sun.
Laser Beam Gargoyles (World 8 Castle)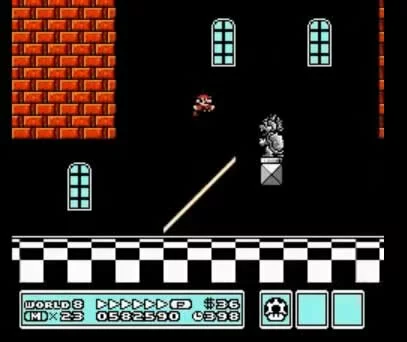 I can just see how this one went down.
Designer enters boss's office
Designer: "Sensei, we are designing Bowser's castle in Mario 3. How can we make it unique and scary?"
Boss: "Wax on, wax off."
Designer: "But General Tso, that doesn't make sense."
Boss: "Laser beams."
Designer: "Sensei, you are wise and brilliant. Tokyo noodle sudoku samurai."
Designer dies an honorable death
Bowser's castle is the only level in the game with laser-shooting stone gargoyles.
Bowser's Bricks (World 8 Castle)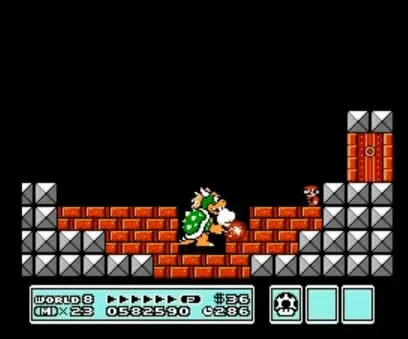 At the end of Bowser's castle there is yet another unique feature: red, breakable bricks that Bowser stomps on. There are no other places in the game that use this mechanism.
It is highly possible I have left out some great examples. If anyone can think of any, please post them in the comments. Also, one of the 13 items above is actually false – there are two of them in the game. I included it to weed out the casual Mario 3 players from the true fans. Do you know which one it is? (I can think of one person who will probably figure out the answer, a particularly tall gentleman from the great state of Iowa).
Honorable Mentions:
Angry Sun (only appears in 2 levels)
Hammer Brother power-up (only available in 2 worlds)
Conveyor Belts (only appear in 2 levels – I might be forgetting one though)
Frozen coins (only appear in 2 levels)
Elevators (only appear in World 7 and once in World 5)
White Flower Levels (only appear in World 7)